Quad safari trip in Antalya: Everything You Need to Know
Quad Safari Tour Antalya trip, If you think you've seen enough of Antalya, you're mistaken, as the quad safari trip, Antalya will demonstrate if you sign up for the program. You will be certain to have a high degree of thrill for 1,5 hours on the outskirts of the Taurus Mountains if you do so! This activity will make you fall in love with Antalya.
Quad Safari Tour Program in Antalya
You should prepare yourself for, the Antalya Quad safari tour program before you begin. Wearing a hat, sunglasses, comfortable clothing, and shoes that do not restrict your movements, for example, is strongly advised.
You should also choose which of them you can risk since they will all become dirty. It's also a good idea to wear a mask over your mouth to keep the dust out of your lungs.
Another point to consider is that, although the Antalya Quad Bike Safari company will provide expert photographers to take pictures during the guests' trip, you may wish to bring your own camera to capture stunning images or films on your own. Alternatively, you may purchase from them afterward.
Of course, don't forget to carry a glass of water with you when you leave the hotel; after all, a Quad driver who has been out in the sun for a long time has to stay hydrated.
Prior to the Quad Biking Tour
We will take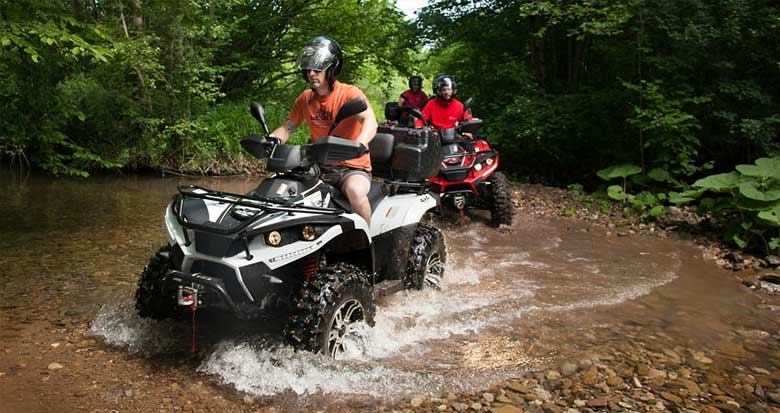 you up from your hotel (in Antalya's borders) and transport you for around 30 minutes to the safari field's starting point.
When we arrive, you will be greeted by the teacher, who will educate you on how to operate the Quad Bike and the route. If you are unskilled, don't worry: there will be a training section that will assist you in learning the intricacies quickly.
Furthermore, you do not need a driver's license to operate it; if you are above the age of 17, you may be a driver. The individuals you care about (2 people) are welcome to join you at the rear of the Quad Bike. You and your companions are totally secure on the bike.
During the Antalya Quad Safari Tour
Let's put your riding abilities on a Quad ATV Biking to the test, since you've already learned enough! Antalya Quad Safari Tour
During our Antalya ATV safari, you will be riding and full of excitement for 1,5 hours through the valleys, rivers, woods, highways, and cliffs of the Taurus Mountains.
Feel how quickly your heart beats and how strong you are! Enjoy your journey as you pass over Mother Nature's challenges and prepare to get your clothing and bike filthy!
There will be several pauses along the route that will enable you to snap selfies and landscape pictures; try not to get your hands wet!
When you've finished the course, you'll arrive at the final station to return the Quad Bike. We'll say our goodbyes to the crew and the bike there, and then board the vehicle that will return you to your hotel. As a result, you will be able to obtain some rest, which you well deserve.
What is included?
Hotel Transfer
Hotel Transfer
Full Coverage Insurance
What is not included Antalya Quad Safari Tour?
Personal Expenditures
DVDs, and Photographs
Drinks & Lunch
What should you bring for Quad Safari Tour Antalya?
Swimsuits
Sunglasses
Sun cream
Towel
Comfortable Shoes
Camera
You Also Make Like,