Mara Palace Hotel is one of the best choices in Fethiye.
At the Mara Palace Hotel, you'll find a modern architectural design for the rooms. It's also close to the beach and the centre of Fethiye. The hotel features 83 rooms in various decors and rooms designed specifically for your holiday.
You can also relax with Turkish baths and saunas.
Mara Palace Hotel in Fethiye
A city centre hotel located in the middle of the city.
Hotel Mara Palace offers dry cleaning/laundry. Enjoy a relaxing massage or Turkish bath/hammam for some relaxation. The two restaurants on-site offer delicious meals. Guests have access to free WiFi and a bar with a hot tub and a sauna.
Among the additional benefits are:
Buffet breakfast (surcharge), bikes for hire and a banquet area.
There is a lift and a reception in the lobby, as well as coffee and tea.
You will find a 24-hour reception, a massage room, and a front desk safety.
Specifications for the rooms
Guests at the Fethiye Hotel Mara Palace can enjoy 24-hour room service and air conditioning.
The amenities are just a few of the many:
Toiletries, a hairdryer, and a shower.
LCD TVs with satellite channels measuring 32 inches. Daily housekeeping
Why do tourists choose Mara Palace?
Enjoy the recreation terrace and the amazing views from the hotel. There is a parking area where you can park your car.
There is a restaurant at the hotel that serves delicious, diverse food. You can order food and beverages directly from your rooms.
A sauna can be reserved at any time during the day for those who want to relax and unwind. For your convenience, the reception desk is open 24 hours a day. There are rooms available for non-smokers.
A few words about rooms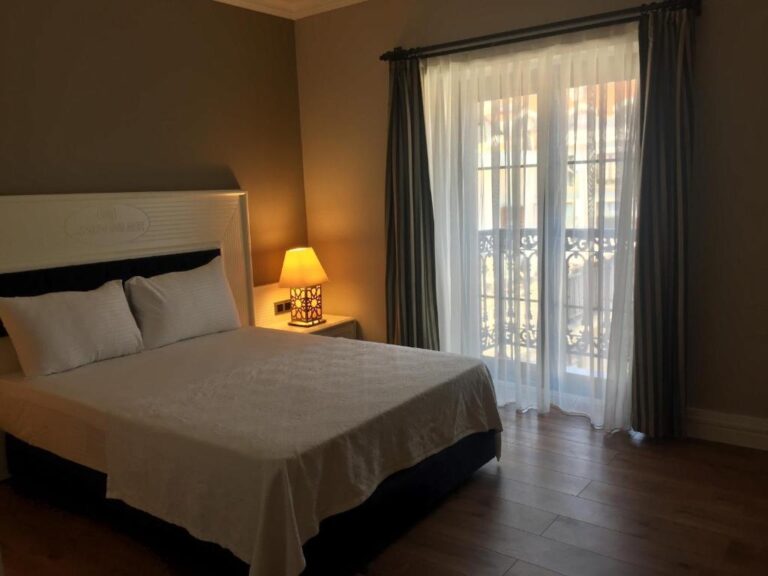 The hotel offers only one type of accommodation: a double.
The safety deposit box, telephone, and hairdryer are all available in the accommodation.
You won't be disturbed by any sound, as there is soundproofing. From your window, you will have a stunning view of the sea.
Hotel Mara Palace: Frequently Asked Questions
What is the cost of a stay at "Mara Palace Hotel"?
(Hotel Mara Palace) The cost of living depends on when you stay.
What is the rate, and how many people are staying?
To see the prices, enter your dates.
What are the most popular attractions near this Hotel?
The nearest attractions are Kayakoy Ghost Town (5.8km).
Lycian Trail (6.8km) and Oludeniz Nature Reserve & Beach (8.3km).
What are the check-in and check-out times for Mara Palace Hotel?
Mara Palace Hotel allows you to check in from 14:00 and check out until noon.
Is there parking at Fethiye hotel mara?
Parking is available at Mara Hotel Fethiye.
How far is Mara Hotel in Fethiye to the nearest airport?
Mara Palace Hotel in Fethiye can be found at 30.4 km from the closest airport Dalaman Airport.
Find out what's nearby
Fethiye Museum 0.3 km

Fethiye Stadium 0.6 km

Telmessos Rock Tombs 0.7 km

Fethiye Marina 0.8 km

Ece Saray Marina 1.2 km

Fethiye Grand Bus Station 1.6 km

Bird sanctuary 3.4 km

Aquapark 3.9 km

Calis Beach 4.6 km

Fethiye Castle 5.8 km
Among the best attractions
Kayakoy Ghost Town 5.8 km

Lycian Way Trail 6.8 km

Oludeniz Nature Reserve and Beach 8.3 km 

Belcekiz Beach 8.8 km

Babadag Mountain 11.5 km

Butterfly Valley 14.2 km
With Hotel Maps Best Price Guarantee, find the best Fethiye hotel deal.
You May Alod Like,
Hotel Maps Also offer Airport transfers and Tours from Antalya to Fethiye.