Dinopark Antalya Family & Tours
Dinopark Antalya Tour is one of the best tours for children. Located in a 30.000 m² area where there is a unique nature with orange smells and forests of European nut pines and Turkish pines.
Your kids will enjoy this tour.
 

Dinopark Antalya Tours Family Tours

Here's a spot where you'll find the best of both worlds! Dinopark in Antalya is a great place to spend time with your family. Dinopark is a fantastic attraction in the Kemer region of Antalya. As Turkey's first dinosaur park, the theme park caters to youngsters. It's a fun method to learn more about dinosaurs' eras and other facts. In this post, you'll learn everything you need to know about Dinopark.
What Can I Do at Dinopark Tour ?
Many dinosaurs that went extinct millions of years ago
are represented
in Dinopark. These replicas also emit authentic dinosaur sounds. Moreover, provide the impression of being alive. The animatronic dinosaur sculptures draw a lot of attention. The inside zoo is a must-see. Hand-feeding animals such as ostrich, rabbit, goat, and various poultry is possible. Pony rides are also available for kids.
Another engaging and fun activity for palaeontology enthusiasts is visiting the dig site. Other enjoyable activities for kids include the climbing wall and trampoline.
There's also a 7D cinema and a haunted house labyrinth, gearing for adults. The restaurant in Dinopark serves breakfast and lunch. It's also a favourite spot for birthday parties, weddings, and other gatherings.
How to Get to Antalya's Dinopark Family Tours?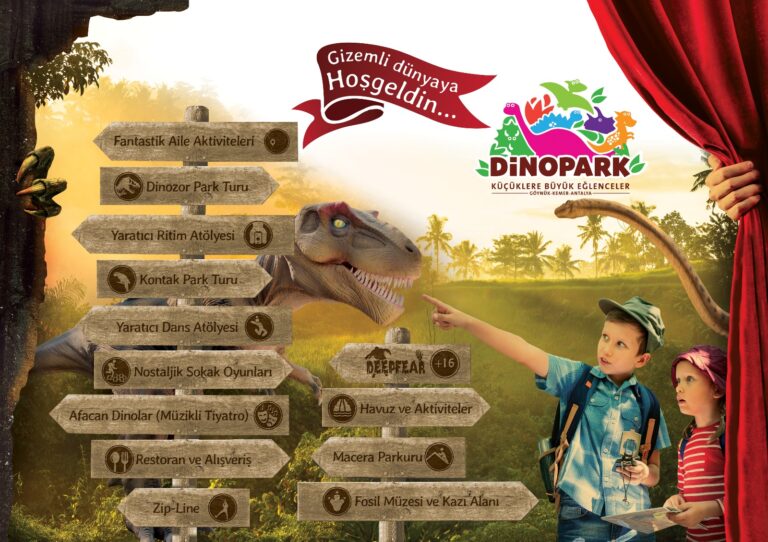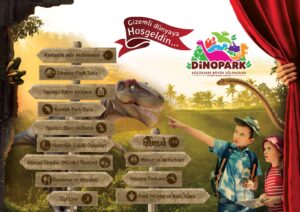 Dinopark
is located
9 kilometres from the city core of Kemer and 36 kilometres from Antalya Bus:
The KEMER GYNÜK bus or minibus parked near Migros 5 M in Antalya can take you to Dinopark.
Things to do in Goynuk Antalya Holidays
Goynuk is one of the most beautiful Places for Any Hotel In Antalya. Goynuk is a resort town in Antalya's Goynuk region, nearest to Kemer. There is a clean sea that
is kept
warm during the summer. The bottom is pebbly, and there are beaches with piles of sand. The neighbourhood has a lovely landscape and a healthy environment.
Several attractions in and around the Goynuk area. Including "Dinopark," Goynuk Canyon, Boat Tour& Phaselis City, Paradise Bay. Moreover, Mount Tahtali Olympos, and other notable places. There are few apartments in the real estate market, dominated by villas. The properties are exceptional, and the surrounding area has
been upgraded
. Even though re
nearly
no residences with sea views, real estate values are on par with the rest of the region.
Goynuk is a resort village located 7 km east of Kemer. 45 kilometers east of Antalya Airport. Kemer district is closest to Antalya. The beach and the sea entrance and seabed are pebbly in this location. Specific beaches have sand stacked in bulk, making it suitable to rest with children.
In addition, towards the end of the summer—accessibility to public transportation. There is enough entertainment for adults and children to spend an entire day.
Three swimming pools, cafes, children's animation, trampoline, bungee jumping. A planetarium, 7D cinema, evening shows, and adult discos.
Antalya Holidays And Tours 
Get the best price for your Antalya holidays,  Hotels, boarding rooms, and shops ring the coastline. Apartments and villas for rent
are placed
further from the shore, closer to the mountains. The resort life takes place in the hotel area and is not disruptive to the permanent residents. Goynuk is ideal for the environment:
pine trees, orange, and pomegranate orchards fill the air with a beautiful perfume.
Enjoy Dinopark Antalya Tours With your family Your Kids will love it. HotelMaps will love to offer you the best
Antalya Resorts
And
Antalya Tours
in the best prices.