Submarine Tour Antalya
Antalya Submarine Tour A 1-hour submarine journey from Antalya allows you to see the aquatic life of the Mediterranean Sea. In the submarine, each passenger gets a seat in front of enormous windows that reveal the underwater world off the coast of Antalya.
Hear the guide's remarks about a submarine trip that enables you to go underwater without getting wet. Hotel pickup and drop-off are both included.
Submarine Tour Antalya Discover the Underwater Riches world.
Antalya Submarine Tour is intended for individuals who wish to branch out from traditional excursions and add a unique experience to their Antalya vacation. The first tourist submarine in Antalya Turkiye. The Nemo Submarine can hold 44 people and two pilots.
We will provide you with the most incredible experience of your life with the Submarine Tour in Antalya. If you're weary of traditional excursions and want to try something new, this tour is for you.
The submarine trip to Antalya can provide you with unrivalled hours beneath the sea, aboard a genuine submarine boat. If you are a nature lover with an adventurous spirit, this trip will delight you in every way, as you will be able to discover the Mediterranean Sea's hidden gems in the most thrilling manner possible.
Antalya Submarine Tour Highlights
The greatest thing about the Antalya submarine trip is that you will spend a couple of hours under the surface, so you will have plenty of opportunities to view beautiful aquatic animals. Continue reading for more information on the steps of the trip and how to enjoy these beautiful moments in detail.
What is including?
Transfer from the Hotel (Both Ways)
Full Insurance Instructions and Safety Briefing
What's not including?
Personal Expenses
What should you bring?
Camera and Comfortable Shoes
Antalya's Submarine tour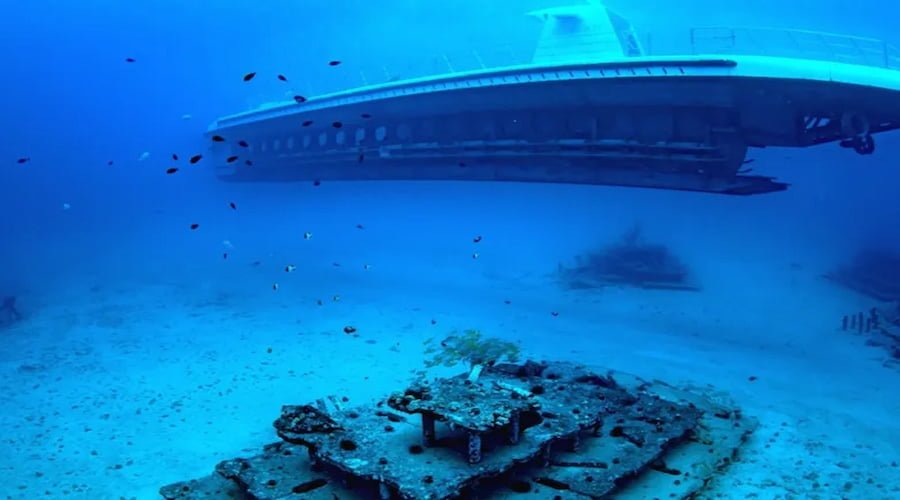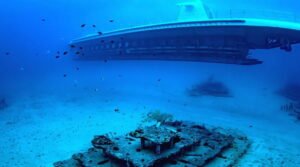 Before we get into the specifics, you should take notice of this section in order to get the most out of your Antalya submarine trip.
For starters, this sport is not suitable for pregnant women or anyone with health problems.
Second, unless your children are less than 90 cm, you may still be with them on the boat if you have them with you (2 feet 11 inches).
Finally, have your camera ready so you may immortalize the amazing sights you will see!
To get your submarine tour off to a good start, we will pick you up from your hotel in our fully-equipped, contemporary, and comfortable vehicle at the pre-arranged hour and take you to the harbor.
Relax and prepare yourself for the aquatic marvels throughout the journey.
Prior to the Submarine Tour Antalya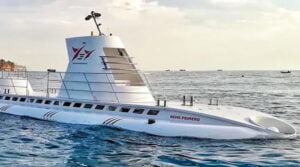 When you arrive at the harbor, proceed to the company's headquarters to meet the experienced instructors who will give you essential diving and safety information.
Then will also teach you the fundamentals of sign language so that you can communicate, as well as how to operate the equipment.
Then, for the first time, you'll meet NEMO Submarine Boat, which is hosting this event and creating an amazing atmosphere. To begin, you need to understand that it is intended to make you feel comfortable and pleased, which is why it is a high-tech device.
The gap between the floor and the ceiling is designed to allow you to move freely. There are also some windows on the interior of the boat that allow you to see the Mediterranean Sea's depths.
Furthermore, NEMO has a cafeteria, so you will be able to drink or eat anything throughout your trip. By the way, the pressure is adjusted by the associated equipment to help you feel more at ease.
The Submarine Dive
When you cruise to a diving site near "Sçan Adas," the most thrilling portion of the Antalya Submarine trip begins (also, known as the Mice Island).
You will plunge into the Mediterranean Sea's hues of blue to view its richness after repeating the safety procedures. You will appreciate its serenity for around 2 hours, as well as the diversity of beautiful fish.
As you might guess, this exercise will provide you with the serenity you desire.
You'll return to the port after these amazing hours beneath the sea. Our car will be waiting for you there to pick you up and return you to your hotel. Our Antalya Submarine trip will be finished when we leave you off, however, we can certainly meet up again to serve you on other Tours in Antalya.
You may also like
City Tour with Waterfalls and Cable Car Antalya
Pamukkale & Salda Lake Tour