About Puding Marina Hotel  City Centre Hotel
Puding Marina Hotel is located in the heart of Antalya's old city region Kaleici. Puding Marina Residence comprises 6 antique homes, an outdoor pool, and a pool bar.
The hotel location gives a unique picture of mountains and the Mediterranean Sea.
Antalya Old Town is the oldest historical area of Antalya.
The historical Mermerli Street, on an area of 10.000 m2, is designed by restoring antique buildings in the same garden.
Puding Marina Hotel facility has merged the boutique hotel idea with modern architecture. The historic building has become one of the exceptional facilities in the region.
Antalya Puding Marina Hotel  Old Town
Puding Marina Hotel works hard to ensure that you, valued guests, have a great time during your stay at the old town hotel. The pool and other activity areas are central with their delicious food and spotless rooms.
Also, you can enjoy all the famous restaurants and cafes in the Old Town area.
The sea and the marina.
The fact that it is only two minutes from the city center and ten minutes walking distance to the city center is also a cause to pick our facility.
The hotel rooms offer air conditioning, TV, telephone, mini-bar, safe box, hair dryer, and basic guest amenities in the bathroom.
Hotel Puding Marina facility serves all guests visiting for business or leisure purposes. Also, it has the following facilities for the use of our guests.
Puding Marina Hotel Rooms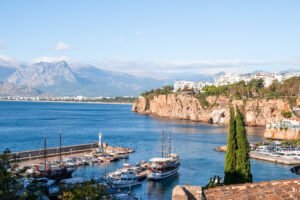 The rooms are furnished with coffee and tea-making amenities, satellite TV, and ironing facilities, as well as bathrooms with towels, bath sheets, and hair dryers.
Guests may enjoy views of the street.
There is also a coffeemaker and an electric kettle.
Fill in your details and let us help you to make a holiday package for you in Antalya.
You May Also Like