About Akra V Hotel Antalya
Akra V hotel Antalya is a twin hotel to the central Akra Luxury hotel. It is located just across the street from the major Akra hotel. 
Akra V Hotel does not offer the same spectacular sea views as the main Akra hotel. It is a collection of 60 rooms with no shared areas. However, you are permitted to utilize. All the magnificent amenities. In the central Akra Hotel. Including the beach, restaurants, an incredible fitness center. 4 outdoor pools, and an excellent online portrayal. Are of the leading hotel, not the addition. We had booked a sea view suite. But all we got was a brief sight of the sea. And a suite is a somewhat larger room that can sleep three people. One will have to sleep on an (excellent) couch bed.
The Akra V Hotel is 4 stars, located
in the heart of Antalya. Barely 300 meters from the Mediterranean shore. It
includes a 24-hour front desk.
Modern wood furniture and a sofa with
satellite. And, TV in the rooms at Akra V Hotel. Each apartment has an electric
kettle with tea: a coffee maker, and a minibar. A furnished balcony with views
of the sea is available in certain rooms. Guests may sample delectable croissants
while sipping coffee or tea. 
The hotel's various eating choices include
the main restaurant. Fine dining restaurant, brasserie, pool bar, lobby bar.
The snack bar and pâtisserie. Also, you may enjoy a variety of Turkish. And
foreign cuisine delicacies. 
The amenities of the Akra Hotel are
available. To guests at no cost. Only 100 meters away, the venue has an on-site
Turkish bath—indoor and outdoor pools.
In addition, a fitness center and beach
access. The Akra V Hotel is 15 km from Antalya Airport and provides free
private parking on site. Bowling and water sports are two nearby recreational activities.
Facilities at AKRA V HOTEL Antalya
Akra V Hotel Main Door
Guests staying in the Akra V Hotel may use the
facilities of the Akra Hotel.
Welcome desk and laundry facilities.
Internet access, business services. Further, currency exchange, hair salons,
and vehicle rental are all available to visitors. Medical help, a store,
babysitting services, and parking are available. It is possible to connect
to the internet through WiFi.
Indoor and outdoor pools with a children's
area. A sun deck with loungers and a fitness center. Further, a jacuzzi, sauna,
Turkish bath and massage are all available. Tennis, mini football, basketball,
and table tennis are all available. A children's club is also open for visitors
aged between 4 to 16 years old.
Akra hotel also has a buffet restaurant
that serves both local and foreign cuisine.
Akra V hotel Antalya Location 
Antalya Airport is 15 km away, while the
the city center is 3 km far.
More About AKRA V HOTEL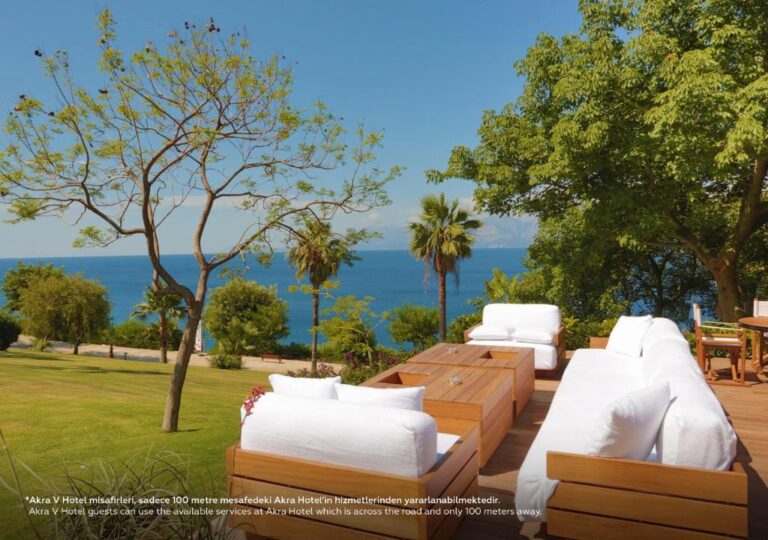 The Akra V Hotel is located in the heart of

     Antalya. Barely 300 meters from the Mediterranean shore. It includes a

     24-hour front desk.

Modern wood furniture and a sofa space with

     satellite. TV in the rooms at Akra V Hotel. Each flat has an electric

     kettle with tea: a coffee maker and a minibar—a furnished balcony with sea

     views.

Guests may sample delectable croissants

while sipping coffee or tea. The hotel's various eating choices include the

main restaurant. Fine dining restaurant, brasserie, pool bar, lobby bar. 

The snack bar and pâtisserie. And, you may

enjoy a variety of Turkish. And foreign cuisine delicacies. The amenities of

the Akra Hotel are available. To guests at no cost. Only 100 meters. The venue

has an on-site Turkish bath—indoor and outdoor pools.

In addition, fitness center and beach access.

 The Akra V Hotel is 15 km from Antalya

     Airport. Bowling and water sports are two nearby recreational activities.

Facilities at AKRA V HOTEL

The customer also can use the facilities of

the Akra Hotel. 

welcome desk and laundry facilities

Internet access and business services. In addition, currency exchange.

Further, hair salons are all available to visitors. Medical help and, a store,

babysitting services. It is possible to connect to the internet through WiFi.

 

Indoor and outdoor pools with a children's

     area. A sun deck with loungers, a fitness center, a jacuzzi, a sauna,

     Turkish bath. And massage is all available. Tennis, mini football,

     basketball, and table tennis are all available. A children's club is 

     open for visitors aged 4 to 16.

Akra hotels Antalya and has a buffet

     restaurant. that serves both local and foreign cuisine.

AKRA V HOTEL Location 

 You May Also Like,