Get The best offer for August
Unforgettable August Escape: 6 Nights and 7 Days at Sherwood Dreams Resort – All-Inclusive Luxury and Optional Tours Included!
Escape to the breathtaking Sherwood Dreams Resort this August for an unforgettable vacation! Immerse yourself in luxury and enjoy the ultimate relaxation with our exclusive promotional offer. Book now for six nights and seven days of pure bliss from 11/07/2023 to 31/08/2023.
Sherwood Dreams Resort Ultra All Inclusive
Escape to Sherwood Dreams Resort this August for an unforgettable 6-night, 7-day getaway filled with all-inclusive luxury and exciting optional tours! Immerse yourself in the beauty of the resort while enjoying complimentary airport transfers. Indulge in delectable meals and refreshing drinks with our all-inclusive package. The spacious and well-appointed rooms ensure utmost comfort for two adults, two children, or three adults and one child under 12 years old. Plus, as part of this limited-time offer, each guest gets to experience one optional tour to explore the surrounding area. Don't miss out on this incredible opportunity to create cherished memories.
Sherwood Dreams Resort Offer Highlights: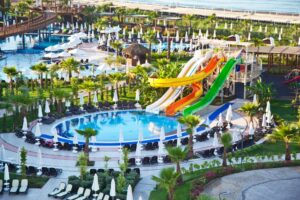 Airport Transfers: Start your vacation hassle-free with complimentary airport transfers. We'll ensure your journey to and from Sherwood Dreams Resort is as smooth as can be.
All-Inclusive Experience: Indulge in the finest culinary delights with our all-inclusive package. We cover everything from sumptuous meals to refreshing beverages for your comfort and satisfaction.
OptionalOptional Tour: As part of our August deal, we are happy to offer each person one alternative tour. Find out about the area's beauty and make moments that will last a lifetime.
Special Offer Details:
Duration: 6 nights and 7 days
Price: Only 1085 USD per person
Minimum Occupancy: Two adults (required)
Room Capacity: Ideal for a maximum of 2 adults, two children, three adults, and one child under 12.
Accommodation:
Experience the epitome of luxury and comfort in our well-appointed rooms. Unwind in a spacious and elegantly designed setting featuring modern amenities to cater to your every need.
Complimentary Optional Tour:
As part of our August promotional offer, we are delighted to offer one optional tour per person. Discover the beauty of the surrounding area and create unforgettable memories during your stay.
Take advantage of this incredible opportunity to relax, rejuvenate, and create lasting memories at Sherwood Dreams Resort. Book now to secure your spot for an extraordinary August getaway!
For reservations and inquiries, visit our website at www.hptelmaps.co or call us at +90 552 555 52 07. Our friendly and knowledgeable staff will be delighted to assist you in planning your dream vacation. Hurry, limited availability!
Terms and conditions apply. Offer subject to availability. Prices are based on double occupancy.
Book Now pay Later