"Antalya to Pamukkale Tour" Enjoy The Best Sunset on Earth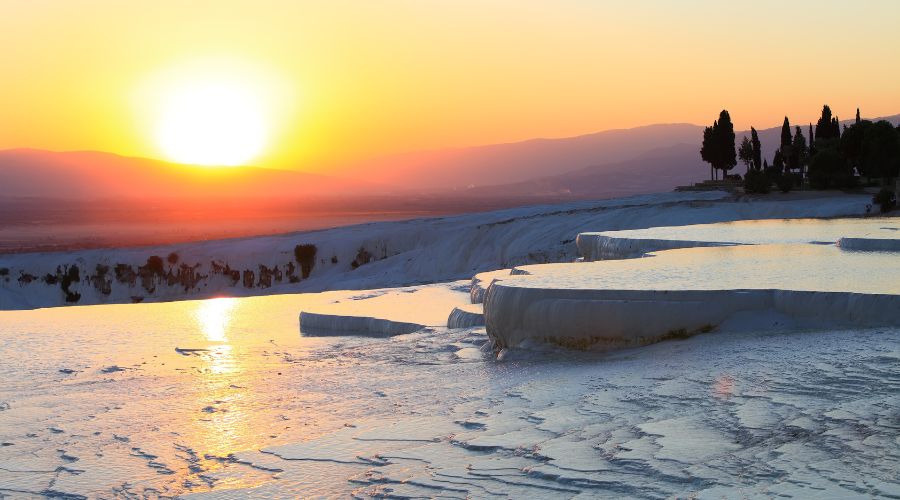 Antalya to Pamukkale is famous in Turkiye because it lets you see two of the country's most exciting places. Here are a few of the best things to see on a tour of Pamukkale:
There is a natural wonder called the "cotton castle" that you must see.
Everything you need to know about Cotton Castle Pamukale Antalya.
Table of Contents
ANTALYA TO PAMUKKALE: The Ultimate Guide (Cotton Castle)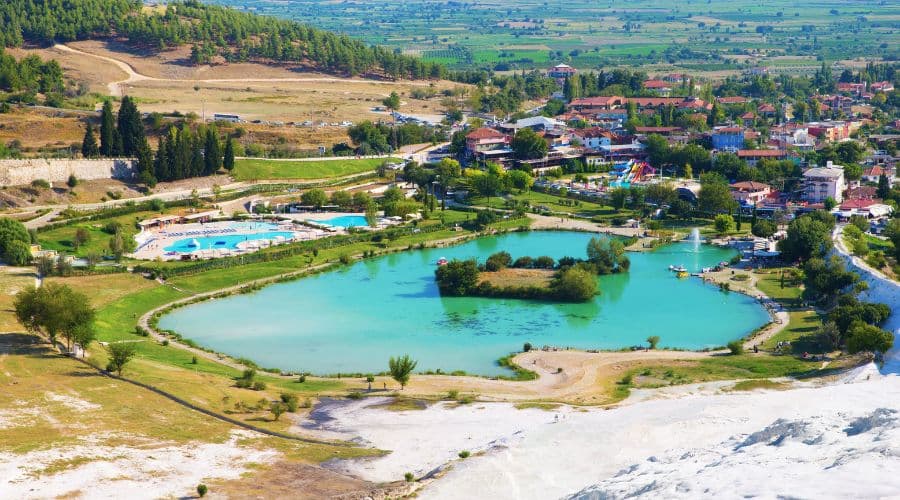 Did you know that Pamukkale is more than just a spectacular landscape? (cotton castle pamukale)
Cotton Castle "Pamukkale" is also home to thermal baths and an entire city!
The thermal pools and the ancient city of Hierapolis are included in your entrance ticket if you visit Pamukkale Tour From Antalya.
The Hot Springs in Pamukkale
The thermal pools, a natural wonder that you must see, are one of the best things to do in Pamukkale. Here, we'll tell you how to enjoy the mineral-rich collections and see one of the most beautiful sunsets of your life in Pamukkale from Antalya.
"The Old City" (Hierapolis)
Behind the Pamukkale Thermal Pools is the Holy City of Hierapolis. This huge ancient city is like a trip back in time. Here, you can see Roman ruins, the old theatre, the museum, and more.
The Pools of Cleopatra (Pamukale Tour from Antalya)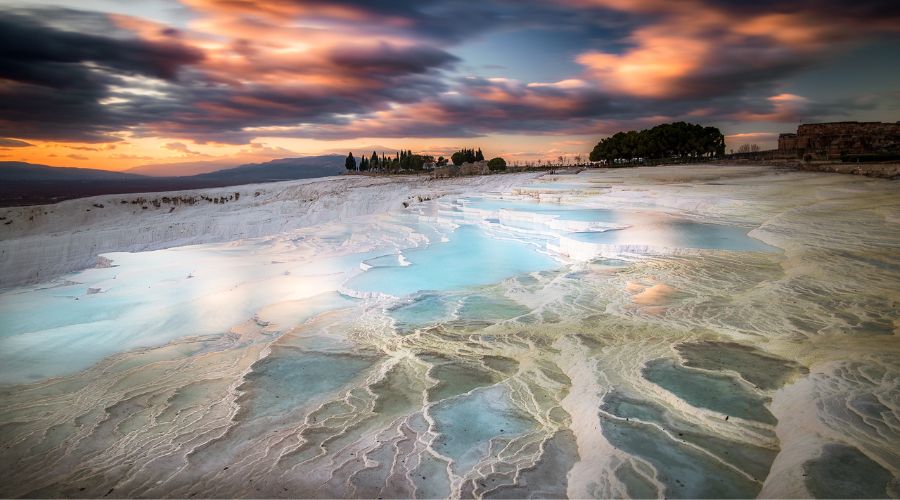 We will also go to the Cleopatra Pools in Hierapolis, a green pool built on old columns torn out of the city by an earthquake. When you swim in these pools, it's like you're swimming through time.
A Blend of Nature and History
Pamukkale cotton is an excellent way to learn about nature's enchantment and history.
Here, you can see how beautiful the cotton castle is, look around the ancient city of Hierapolis, and even go to the Kaklik Cave, a hidden gem near Pamukkale.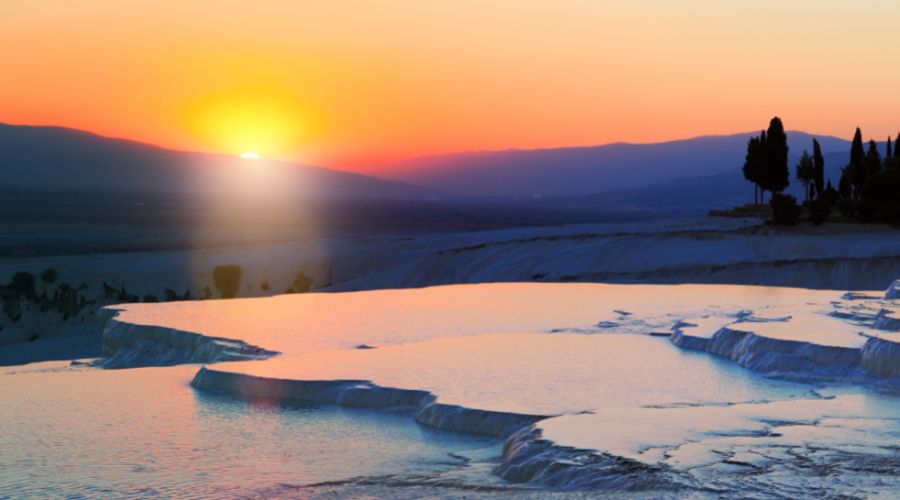 Frequently asked questions about Pamukkale to Antalya are answered here.
Is it worth going to Pamukkale, Antalya?
Yes, you should Visit Pamukkale if you are in Antalya. It is one of Turkey's most beautiful natural sights, and the ancient city of Hierapolis makes the trip even more interesting. From Antalya, you should go to Pamukkale if you are interested in nature, history, and culture.
How do I get from Antalya to Pamukkale?
HotelMaps offers tours to Pamukkale from Antalya for both groups and VIPs.
If you prefer traveling with a group, we can provide comfortable vehicles with air conditioning from Antalya to Pamukkale.
Our group tours are a great way to meet other travelers and see the beautiful sights of Pamukkale at the same time.
VIP Privet Tours by HotelMaps
Our VIP tours are great for people who want more privacy and a more tailored experience. With our VIP tours, you can enjoy a private tour with a professional guide and have more control over the schedule. We'll get you to Pamukkale from Antalya in a luxury car and take care of all the details, so you can sit back and enjoy the trip.
No matter which option you choose, we promise that your trip to Pamukkale will be easy and fun.
How far is Pamukkale from Antalya?
The distance to Pamukkale Antalya is around 230 km (143 miles).
The driving time between Pamukkale to Antalya is approximately 3 hours and 30 minutes.
Can I take a day full-day trip from Pamukkale?
Yes, Pamukkale Tour from Antalya is a full-day Round trip.
The journey takes about 3 hours each way.
This tour leaves early in the morning and returns in the evening.
When is the best time to go from Antalya to Pamukkale?
Between April and October, when it's warm and sunny, is the best time to go to Pamukkale Antalya.
July and August are the busiest months of the year, so avoiding crowds in the spring and fall is advisable.
When I go to Antalya Pamukkale, what should I wear?
Since you will be walking, Pamukkale Antalya, you should wear comfortable clothes and light. You should also wear shoes that are made for walking. If you want to swim in the thermal pools, you should also bring a swimsuit and a towel. Antalya Pamukkale tour discovers the beauty.
How much does a trip from Antalya to Pamukkale cost?
On average, a full-day tour to Pamukkale from Antalya costs between $60 and $90 per person.
The price includes lunch, entrance fees, and two ways to get to and from Pamukkale.
There are many tours and activities available for visitors to experience the best of what Antalya has to offer. Here are some of the top things to do in Antalya:
Visit the Old Town: Antalya's Old Town is a maze of narrow streets and alleyways, filled with historic buildings, charming cafes, and local shops. You can take a guided walking tour or explore on your own to discover the city's ancient past.
Explore the beaches: Antalya is home to some of Turkey's most beautiful beaches, including Lara Beach, Konyaalti Beach, and Olympos Beach. You can relax on the sand, swim in the clear waters, and enjoy a variety of water sports.
Discover the ancient ruins: Antalya is surrounded by ancient ruins and archaeological sites, including the ancient city of Perge, the Aspendos theater, and the Roman aqueducts. You can take a guided tour to learn more about the history and culture of the region.
Take a boat tour: Antalya's coastline is stunning, and one of the best ways to see it is by taking a boat tour. You can explore hidden coves, snorkel in crystal-clear waters, and see the city from a different perspective.
Visit the Antalya Aquarium: The Antalya Aquarium is one of the largest aquariums in the world, with over 40 different exhibits featuring sea creatures from around the globe. You can also visit WildPark, which is home to a variety of exotic animals.
Experience Turkish culture: Antalya is a great place to experience Turkish culture, with traditional food, music, and dance performances. You can take a cooking class, visit a traditional Turkish bath, or attend a local festival to immerse yourself in the local culture.
Go on a safari: Antalya's natural landscapes are also worth exploring, and one of the best ways to do so is by going on a safari tour. You can ride in a jeep or on horseback to explore the rugged terrain and see the local wildlife.
Antalya to Pamukkale tour enjoys the best sunset on earth.